Home
The 84th Sarasota Tar­pon Tournament
Sat­ur­day, May 10th thru Sun­day, June 15th, 2014
The Sarasota Tar­pon Tour­na­ment has been an annual event here in Sarasota since 1930. Not only is this his­toric Tour­na­ment an oppor­tu­nity to par­tic­i­pate in world-class fish­ing, but it also sup­ports the local community.
To do that, the Tour­na­ment part­ners with a selected non-profit orga­ni­za­tion annu­ally and donates a por­tion of the pro­ceeds to that char­i­ta­ble organization.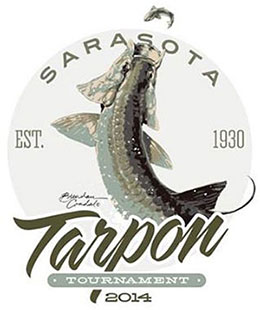 We are pleased to announce that for the fourth year in a row, the Tour­na­ment will part­ner with Sun­coast Char­i­ties for Chil­dren. To date, the Tour­na­ment has donated more than $24,000 to this deserv­ing charity.
For an entry fee of just $125, anglers not only com­pete for an over­all win­ner cat­e­gory, but also, weekly, junior, ladies, 'most DNA sam­ples col­lected' and 'his & her' categories.
In 2013, a new rule was added, the angler win­ning the fly divi­sion, as well as the angler with the most reg­is­tered DNA sam­ples, will be invited to par­tic­i­pate in the Fish-Off!
Weekly win­ners and win­ners of the two addi­tional cat­e­gories will all com­pete in a 2-day Fish-Off week­end to deter­mine over­all win­ner whose name is inscribed on the his­toric trophy.
If you're look­ing to make new friends, have some fun and test your angling skills, come fish with us and yours could be the next name on that trophy.
Tar­pon are world-class game fish and are easy to access directly off Sarasota's beau­ti­ful beaches. Described as one of the most excit­ing fish to catch, tar­pon are known for spec­tac­u­lar leaps and deter­mined fights — as a mat­ter of fact, more bat­tles seem to be won by the tar­pon rather than the angler, mak­ing the reward of catch­ing one momentous!
Enter­ing the "World's Old­est Tar­pon Tour­na­ment" makes this 'game' even more excit­ing because anglers not only have the chance to com­pete against the Sil­ver King, but also, their fel­low anglers.
Sun­coast Char­i­ties for Children
Sun­coast Char­i­ties for Chil­dren has con­structed $14 Mil­lion in facil­i­ties (total­ing 73,000 square feet) serv­ing chil­dren with spe­cial needs. This enables all of these facil­i­ties to only pay $1 per year in rent.
Sun­coast Char­i­ties con­tin­ues to main­tain these facil­i­ties, and sup­ports spe­cial project requests from these agen­cies, with pro­ceeds raised through spe­cial events and fes­ti­vals held through­out the year.