Home
2020 SARASOTA TARPON TOURNAMENT CANCELED
04|04|2020 – 5:30 PM: The tournament committee met recently to discuss whether to proceed with the 2020 tournament in light of the arrival of COVID-19 in Florida. With the closure of boat ramps, a stay at home order, the financial impact this crisis is having on all of us, and the variety of unknowns we are all facing together; we agreed that the only prudent action in the midst of a worldwide pandemic is to cancel the tournament.
That said we will continue to watch the situation closely and if there is an opportunity to do something together this year, you will be the first to know!
We all share a passion for tarpon fishing and the legacy of the Sarasota Tarpon Tournament, so this was a very difficult decision to make. Please share a huge THANK YOU to all our sponsors who have supported the tournament this year and the past. THANK YOU to all the anglers who continue to come back year after year, and to the new anglers, we appreciate you being apart of history.
Those who have sponsored & registered online will be contacted for a refund.
We are dedicated to having an amazing 90th year of the Sarasota Tarpon Tournament in 2021. Again, thank you all for your continued support.
Stay safe, and wash your hands!
---
90th Annual Sarasota Tarpon Tournament
Dates: May 9th – June 14th 2020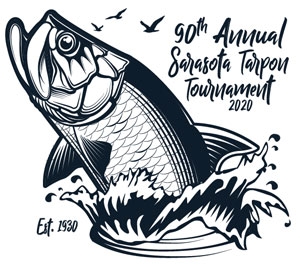 As we enter the 90th year of the Sarasota Tarpon Tournament we are proud to announce our 2020 tournament dates. The tournament begins on Saturday, May 9th and continues through Sunday, June 14th.
For the third year in a row the Kick-Off Celebration for the start of the 2020 Tarpon Tournament will be held at The White Buffalo Saloon in Sarasota on Wednesday night, May 6th.
Registration begins at 6:00 p.m. at The White Buffalo and the party starts at 7:00 p.m. Your $150 entry fee into the tournament gets you admittance to the Kick-Off event. A cash bar will be available with LIVE MUSIC, GOOD TIMES, a LIVE AUCTION with some incredible outdoor EXPERIENCES from CCA as well as AMAZING RAFFLES for gear, tackle, paddle boards, coolers, artwork and much more.
SPONSORSHIPS are available! It is the generosity of our amazing sponsors that have kept this legendary tournament running for 90 consecutive years. As you know, we have a fantastic group of anglers and much more watching online and in the community. Please contact us if you would like to talk to a sponsorship representative.
We couldn't be more excited about this year's tournament and can't wait to see you all at the White Buffalo!
The Tarpon Tournament has been an annual event here in Sarasota since 1930. This year's 2020 Edition marks the tournament's 90th continuous year of sanctioned competition. Not only is this historic Tarpon Tournament an opportunity to participate in world-class fishing, it also supports the local community.
To do that, the Tournament partners with a selected non-profit organization annually and donates a portion of the proceeds to that charitable organization.
For a Entry Fee of just $150, anglers not only compete for an overall winner tile, but also, weekly, junior, ladies, fly, most releases and His & Her Divisions winner.
Weekly winners and winners of the fly division and most releases will all compete in a 2-day Fish-Off weekend to determine overall winner whose name is inscribed on the historic trophy.
If you're looking to make new friends, have some fun and test your angling skills, come fish with us and yours could be the next name on that trophy.
Tarpon are world-class game fish and are easy to access directly off Sarasota's beautiful beaches. Described as one of the most exciting fish to catch, tarpon are known for spectacular leaps and determined fights — as a matter of fact, more battles seem to be won by the tarpon rather than the angler, making the reward of catching one momentous!
Entering the "World's Oldest Tarpon Tournament" makes this 'game' even more exciting because anglers not only have the chance to compete against the Silver King, but also, their fellow anglers.