Home
93rd Annual Sarasota Tarpon Tournament
Dates: May 6th – June 11th, 2023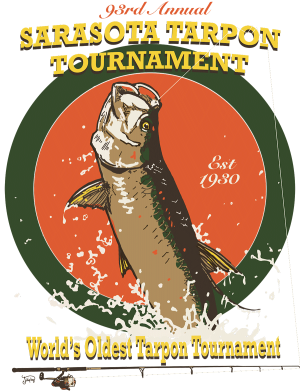 The 93rd Annual Tournament kicked off on Saturday, May 6th, and continued through Sunday, June 11th.
Congratulations go out to the 2023 Tournament Winner Doug Forde whose name will now be added the historic tarpon tournament trophy.
The Kick-Off Event this year was once again held at Joyland, 8341 Lockwood Ridge Road in Sarasota on Wednesday, May 3rd, and of course dinner was included with your Entry Fee.
This years AWARDS DINNER will be held at Gold Coast Eagle Distributing, 7051 Wireless Ct, Sarasota FL on Friday, July 21st, 2023. Check-In starts at 6:00 PM, a splendid time is guaranteed for all.
Online Registration and Sponsorships were available and once again it was the generosity of our amazing sponsors that have kept this legendary tournament running now for over 90 years. As you know, we have a fantastic group of anglers and many more watching online and throughout the community. Please get in touch with us if you would like to talk about a future sponsorship.
The Tarpon Tournament has been an annual event here in Sarasota since 1930. This year's 2023 Edition marks the tournament's 93rd year of sanctioned competition. Not only is this historic Tarpon Tournament an opportunity to participate in world-class fishing, it also supports the local community.
To do that the Tournament partners with selected non-profit organizations annually and donates a portion of the proceeds to those charitable organizations. This year those organizations include the Suncoast Charities for Children, the CCA or Coastal Conservation Association of Florida, and the Bonefish & Tarpon Trust.
For a Entry Fee of just $150, anglers not only compete for an overall winner tile, but also, weekly, junior, ladies, fly, most releases, and His & Her Divisions winner.
Weekly winners and winners of the fly division and most releases will all compete in a 2-day Fish-Off weekend to determine overall winner whose name is inscribed on the historic trophy.
If you're looking to make new friends, have some fun, and test your angling skills, fish with us, and yours could be the next name on that trophy.
Tarpon are world-class game fish and are easy to access directly off Sarasota's beautiful beaches. Described as one of the most exciting fish to catch, tarpon are known for spectacular leaps and determined fights — as a matter of fact, more battles seem to be won by the tarpon rather than the angler, making the reward of catching one momentous!
Entering the "World's Oldest Tarpon Tournament" makes this 'game' even more exciting because anglers not only have the chance to compete against the Silver King, but also, their fellow anglers.