About the Sarasota Sportsfishing Anglers Club
Sarasota County Anglers Club
In 1929, Powell Crosley Jr., famous industrialist and radio magnate, hooked his first silver king when he was invited by Robert Ringling to participate in the Sarasota fishing community's "tarpon fever." Later, in 1930, he was elected president of the newly formed Sarasota County Angler's Club. The ever-inventive Powell wanted to give the Club's international tarpon tournament a boost. The event was carried on Crosley's Cincinnati radio station, and from there relayed via telephone lines to Ohio and affiliate stations nationwide, putting Sarasota on the map! Our history is rich, and we celebrate it with this continuing tournament.
Important Dates:
1930: Powell Crosley becomes first president of the Sarasota County Angler's Club.
June, 1930: Crosley has first live broadcast of tournament. Tradition began of giving proceeds to a local charity.
1930: Palmer Bank donates funds to create a 3' silver trophy for the Tournament.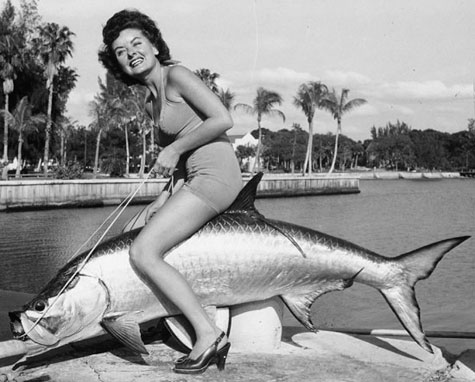 1940: First year of the 'Tarpon Queen' beauty pageant.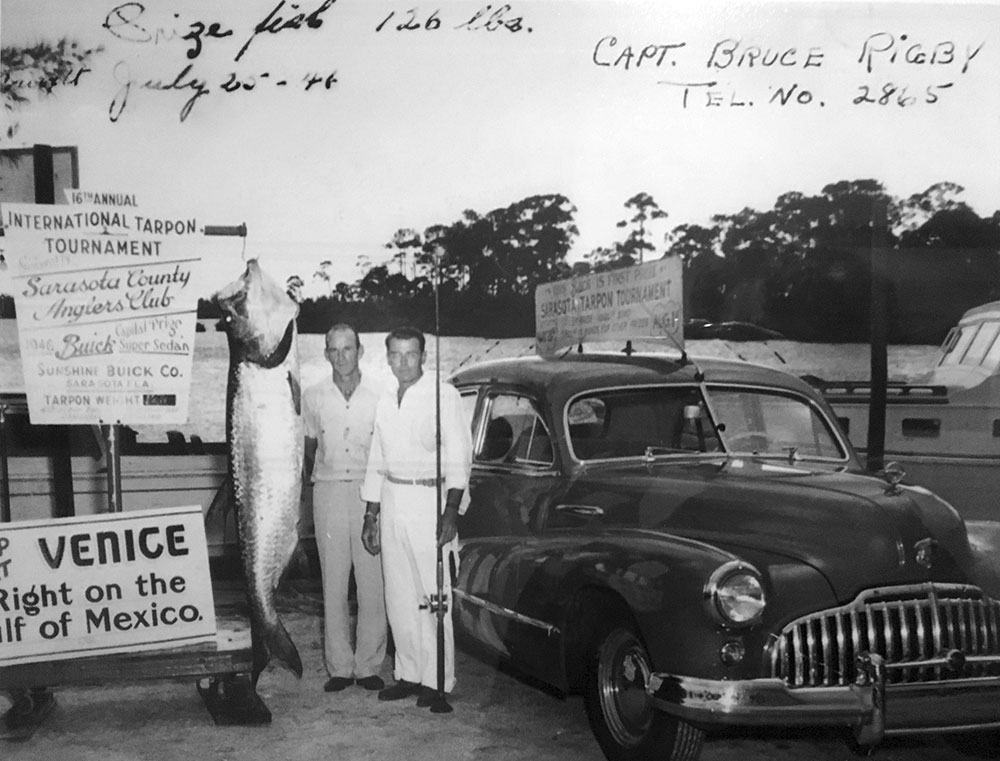 1944: This rare World War II era photograph shows the 1944 Tarpon Tournament winner displaying his catch.

1946: The 16th consecutive, and first post World War II Tournament is held.
1961: Sarasota Chamber of Commerce approves the creation of a 'Tarpon Queen' costume made of Tarpon scales.
1961: A Buick is one of the many prizes available to the Tournament winner.
1962: Sarasota resident Charlotte Kicklighter continued the tradition of wearing the Tarpon-scaled costume and became the new 'Tarpon Queen' representing the Tournament at many fishing events.
1984: Sarasota County Angler's Club president Bill Mindline changes the Tournament from a 'kill' format to an 'all-release' format (which is still in place). This was a bold move at the time, ahead of its time.
1990: Tournament was revitalized by Dennis Hart (Hart's Landing), Aledia Tush CBs Saltwater Outfitters) and Jeffri Durrance. The focus was on the fun of fishing and recognition of Tarpon as a valuable resource in our local community.
Sarasota Sportsfishing Anglers Club
1997: The Sarasota County Angler's Club merged with the Sarasota Sportsfishing Club to become Sarasota Sportsfishing Anglers Club, current sponsor of the Tournament.
2009: Tournament partners with Big Brothers Big Sisters as its charitable recipient.
2010: Tournament hits its 80th year and partners with Suncoast Charities for Children as its charitable recipient.
2010: Nokomis resident Nicole Coudal selected to re-invigorate the role of 'Tarpon Queen' and represented the Tournament with a new sash and tiara to mark the milestone year. Coincidentally, she also won the Ladies division of the Tournament.
2013: The Annual Sarasota Tarpon Tournament has raised over $10,000 for Suncoast Charities for Children, for the fourth year in a row its charitable recipient.
2016: Aledia Tush Wins the 2016 Sarasota Tarpon Tournament and becomes the first woman to win the tournament a record three times.