2018 Tournament Kick-Off Event at the White Buffalo Saloon a Big Success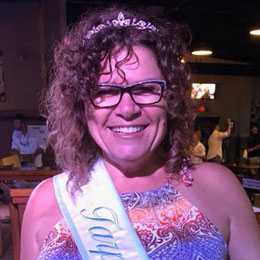 Wednesday nights Kick-Off event at the White Buffalo ushered in a new era as the Annual Kick-Off Event took on decidedly country and western look and feel.
A big supportive crowd packed the White Buffalo Saloon, with many in attendance first-time attendees.
This year marked the tournament's 88th consecutive year of competition. kicked into gear around 7 p.m.
Tournament organizers were overwhelmed by the show of support from the community. The committee expressed its sincere gratitude to the White Buffalo Saloon who acted as this year's Tournament Hosting Sponsor along with Bud Light.
Bryan Kelly, acting as master of ceremonies, reviewed the tournament rules and gave a shout out to all the 2018 Tournament's many sponsors. Bryan also voiced special thanks to the 2018 Presenting Sponsors, Tom Kane Construction Inc., Sugar Orthopaedics, Conley Buick, GOTTA LIVE, and Columbia Sportswear.
Lori Colado (shown above) was introduced as the 2018 Tarpon Queen. Lori fishes the tournament and is an avid Tarpon angler. Her passion for the fish and this tournament, as well as the overwhelming number of nominations she received made her the perfect Tarpon Queen.
As usual, there was an incredible selection of fishing related items, too many to mention here, donated for this year's charity raffle which was conducted throughout the evening by Bryan Kelly to a boisterous crowd.
Monies raised from the evening's raffles and the Tournament overall will, as usual, be donated to Charity. Included again this year to the list of charities, the Coastal Conservation Association.