Week Two is in the Books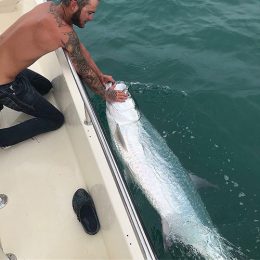 Week Two of the 88th Annual Sarasota Tarpon Tournament did not come without its challenges as the rain continued through much of week two. While fish continue to be seen in numbers, anglers report that if you're striking out, changing up your bait may change your luck.
Congratulations to Chris Speary who hit the top of the leaderboard in Week Two recording a 39-inch girth on the Tarpon he caught and released on Saturday the 26th. Tom Goshorn ran a close second in week two with a 38-inch Tarpon caught and released on Sunday the 20th off of Longboat Key.
Wyatt Rogers finished third with a 37-inch Tarpon he reeled in on Sunday the 20th, again off of Longboat Key. Just two inches separated the three top finishers on the leaderboard in week two.
Currently David Sugar is leading Most Releases with 5 and Yuly Torres is leading the Women's Division with a 35" fish.