Tom Kane Wins 89th Annual Sarasota Tarpon Tournament Claiming First Title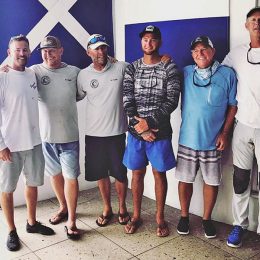 Tom Kane won Saturday's fish-off with a 36″ catch and release. Temperatures topped out on Saturday at 92º, and water temperatures were in the mid-80's. All in all, it was a great day weather-wise for this year's fish-off competition. Tommy recorded his winning catch at 8:10 am just off of Siesta Key. This marks Tom's first tournament win and his name will soon be engraved on the historic trophy along with the other 88 previous winners.
The Sarasota Tarpon Tournament Committee would like to thank all the anglers who participated in this years Fish-Off. Besides Tom Kane, who finished first in week 4 the other anglers participating were Chris Speary, the Week 1 winner, Scott LeClair, the week 2 first place finisher, Rick Richards, who placed first in Week 3, Rusty Driver, the Week 5 first place finisher, and Joe Peters, who had this year's tournament 'most releases' with 26 total releases.