Ladies and Gentleman we have a Winner!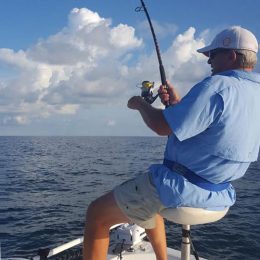 Congratulations to Bryan Wright. After a tough 5 weeks of fishing Bryan was the only angler to land a fish in today's Fish-off. Join us July 14th to celebrate Bryan and all our winners.
This year's Fish-Off finalist included eventual tournament winner Bryan Wright, the Week Two winner and the other four weekly winners, Tom Kane, Week One, Eric Hernandez, Week Three, Curt Tellbuescher, Week Four, and Brock Horner, Week Five. They were joined by Greg Peterson and David Sugar, who qualified for the Fish-Off with seven overall catches totaling 208 inches.
There's a great night planned for the awards banquet this year being held Friday, July 14th at the Hyatt Sarasota. We are finalizing the headcount now and if YOU HAVEN'T ALREADY RSVP'd please comment below and let us know how many in your party. Come celebrate our winners and support the cause with a great raffle, vacation package, and a LIVE auction.