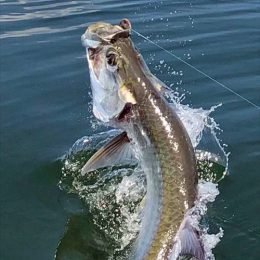 Week Three of the 88th Annual Sarasota Tarpon Tournament is in the books. Congratulations to Joe Speary who hit the top of the leaderboard with a first-place finish in Week Three having caught and released a Tarpon with a 36″ girth.
The Week Three Official Results are as follows: 1st Place: Joe Speary with a 36″ recorded girth caught and released on Thursday, May 31st., 2nd Place went to Tom Goshorn, also with a girth measuring 36″ caught and released on Saturday, June 2nd, and Alex Swanson with a Tarpon whose girth measured in at 34″ and earned him a third-place finish, recorded on Saturday, June 2nd.
Remember, the tiebreaker is the time that you report your fish at a report and registration station like CB's Saltwater Outfitters on Siesta Key, Harts Landing or New Pass Grill and Bait in Sarasota, Cannon's Marina on Longboat Key, or the Crow's Nest in Venice.
Currently, David Sugar and Jaime Smith are leading most releases with 5 and Yuly Torres is still leading the women's division with a 35″ fish. Jamie Smith and Rebecca Pellegrini are leading the his-and-hers division with over 70 total inches.
Again, Congratulations to Joe and all the anglers on the leaderboard this week. There are 2 weeks of fishing left and anglers can still register online.
Read More